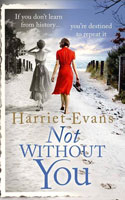 What they say
If you don't learn from history . . .You're destined to repeat it

Not without you, she'd said. And I'd let her down…

Hollywood, 1961: when beautiful, much-loved movie star Eve Noel vanishes at the height of her fame, no-one knows where, much less why.

Fifty years later, another young British actress, Sophie Leigh, lives in Eve's house high in the Hollywood Hills. Eve Noel was her inspiration and Sophie, disenchanted with her life in LA, finds herself becoming increasingly obsessed with the mystery of her idol's disappearance. And the more she finds out, the more she realises Eve's life is linked with her own.

As Eve's tragic past and the present start to collide, Sophie needs to unravel the truth to save them both – but is she already too late? Becoming increasingly entangled in Eve's world, Sophie must decide whose life she is really living . . .
What I say
I would like to thank Harper Fiction PR (@fictionpubteam) for sending me a copy of this book, in return for an honest and fair review. Sorry it has taken me awhile to publish my review.
This is the first book of Harriet's that I have read and I am glad it is the first. I like Sophie but I loved Eve, I loved the way Harriet told the story in chapters going between Sophie's life and Eve's story.
Both characters were engaging especially Eve, a wonderful book that gives an insight into Hollywood, how much of this is based on truth I don't know, but it certainly makes you realise how corrupt it is and how it exploits young girls.
Would recommend to anyone that likes a book with a twist.
3.5 out of 5 stars